Montreal Grand Benefit Concert – MONTRÉAL Grand Concert Bénéfice
Venue: FIRST ARMENIAN EVANGELICAL CHURCH
11455 DROUART STREET, MONTREAL, QC H3M 2S6 (L'ACADIE CORNER)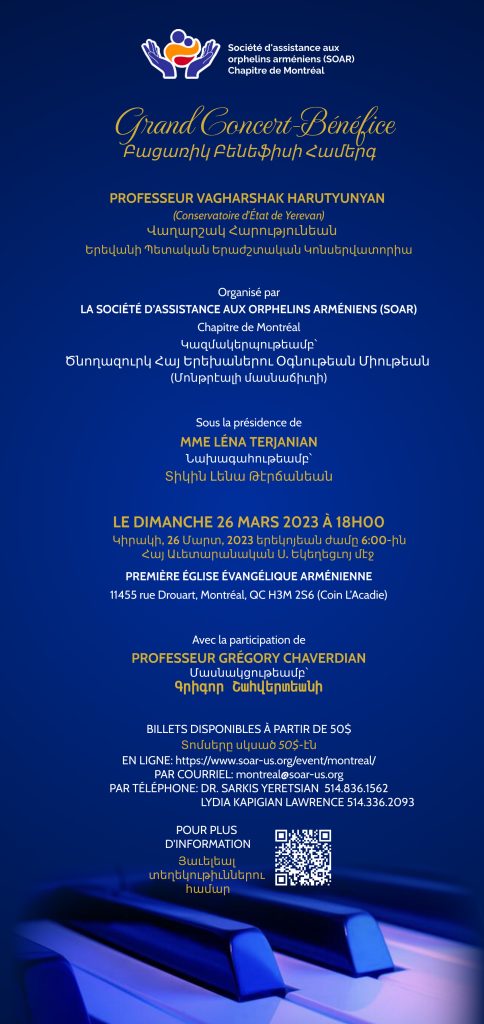 Born in Yerevan, Vagharshak Harutyunyan studied at Yerevan State
Conservatory with professor Sergey Barseghyan.
Looking back at his impressive career, he established himself as one of the
leading pianists and pedagogues in Armenia. Since 1988 Vagharshak
Harutyunyan is a professor of Yerevan State Conservatory. His international
career has included many solo recitals in Canada, Greece, France, Lebanon,
Iran, Russia, Kazakhstan, Ukraine.
In 2011-2018 he worked as Vice-Rector on Academic Affairs of Yerevan State
Conservatory. He was also the Musical Director in Public Radio of Armenia for
a period.
Vagharshak Harutyunyan has been awarded "Grigor Narekatsi" Medal and
Golden medal by Ministry of Culture of Armenia for significant contribution
in the development of Armenian culture. He has been recognized as
"Honored Teacher" of Armenia as well.
Over 30 laureates of different international competitions are the result of his
passionate and tireless pedagogical activity. Some of his previous students
now have become winners of prestigious piano competitions, such as Aram
Khachaturyan, Maria Canals and Long-Thibaud-Crespin international piano
competitions.
Vagharshak Harutyunyan was awarded "Best Teacher" Diploma by many
international piano competitions ("Sky and Earth"(Moscow, Russia), "Juzeppe
Teraccano" (Salerno, Italy), Tbilisi's piano competition, Scriabin piano
competitio(Paris, France). He has given numerous master classes in different
countries and is a jury member of many international and republic piano
competitions