SOAR - Dallas Chapter
SOAR-Dallas became part of the SOAR family in April 2015. Armenians first arrived in North Texas in the 1890s. Today, the community of approximately 2,000 Armenians is galvanized by St. Sarkis Armenian Orthodoz Church, which offers Sunday services and hosting a variety of community events.
Kristine Ratevosyan
President
Kristine Ratevosyan was born and raised in Yerevan, Armenia. She moved to America eleven years ago, and is currently in school getting her Bachelor's Degree in Finance at the University of North Texas. Kristine is involved in many non-profit organizations in the DFW area such as Children's Advocacy Center, Habitat for Humanity, Minnie's Food Pantry, Frisco Family Services, Dallas Furniture Bank, and FMSC. She is also an active member in St. Sarkis Armenian Orthodox Church in Carrollton, on the board of ACYOA, and an active volunteer or ArmeniaFest. Her passion is working with children and giving back to the community.
Rita Katanjian
Vice President
As a Dallas native, Rita Katanjian is currently attending the University of North Texas to obtain her Bachelor of Science in Biology with a minor in chemistry, and is pursuing a career as a Veterinarian. She has been a member of the Saint Sarkis Armenian Church for most of her life, and as an active ACYOA member, she has spent time giving back to her community through volunteer work.Rita has been working in the field of veterinary medicine for 5 years, and is currently employed as an emergency veterinary technician at one of the largest veterinary emergency hospitals the Dallas metroplex. In her spare time, she competitively rides horses for the University of North Texas team, fosters orphaned kittens, and serves on multiple committees at her school and at the church, including the EBoard of UNT, serving as treasurer for UNT's equestrian team, and the Dallas Sports Weekend Committee. Rita owns 4 cats named Squirrel, Sterling, Shiner and Opal, and a crayfish named Admiral.
Shant Aghyarian
Shant received his BS in Chemistry from the Armenian University of Beirut in 2011 with minors in Philosophy and Biomedical Engineering. He moved to Dallas shortly thereafter and completed his MS and PhD work in Biomedical Engineering in 2013 and 2015, respectively. Shant has been involved with volunteer work with the Armenian youth in Lebanon and in Dallas. He is involved in the Armenian community in Dallas and likes to spend his free time giving back to his community.
Ani Baghdasaryan
Ani Baghdasaryan is a recent graduate of The University of Texas at Dallas and Philipps-Universität Marburg with a Master's degree of International Political Economy. Before that she studied Business at the American University of Armenia. Currently, she is excited to be a part of the SOAR Dallas branch.
Vatche Kaftajian
Vatche Kaftajian has been a member of St. Sarkis Armenian Church in Dallas, Texas since he was young. In recent years, Vatche assisted in revitalizing the ACYOA Dallas Chapter and create engagement with the community. He has attended leadership conferences, chapter workshops, and general assemblies, as well as helping with Habitat for Humanity and Feed My Starving Children. Vatche is currently serving as the Recording Secretary of the Dallas chapter.
Vatche has been working as a Certified Pharmacy Technician for 11 years and is the Lead Clinical Technician at his current job. He holds two designations, CPhT and CSPT, as well as State and National licenses. He has experience in retail, dialysis, geriatric rehabilitation, medication therapy management and student health at Texas State University. He plans to return to school and earn his PharmD to be a Pharmacist.
In his spare time, Vatche likes to spend time with his dog Jack, gaming, paintballing and going out with friends.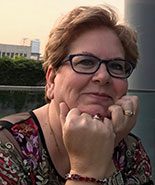 Marla Sarokhanian
Marla is a long time member of the Dallas St. Sarkis community .  She and husband, Hamlet, have two sons, Nicholas and Stefan and five grandchildren.
Marla runs a booth at a local antique shop and enjoys the hunt for treasures to sell.  She gives to many different charities, including food banks, homeless shelters and Angel Tree.
She has lived in Dallas three times, Lynchburg, VA twice, Raleigh, NC and Tokyo, Japan.