SOAR - Cyprus Chapter
SOAR-Cyprus joined the SOAR family in April 2018. The relationship of Armenians with Cyprus and their presence on the island is very old, and they have shared a mutual economic and cultural association for many centuries. Armenians in Cyprus have a structured community with a long history, and their presence has enriched the island in several ways. They are a recognized minority with their own language, schools, churches, cemeteries, monuments, information media, social institutions, customs, traditions, and cultural life.
During the Middle Ages, Cyprus had an extensive connection with the Armenian Kingdom of Cilicia. More recently, the short-lived National Educational Orphanage and the Melkonian Educational Institute were very influential, as was the presence of the Armenian Legion in Cyprus. Cyprus was the first country to bring the issue of the Armenian Genocide recognition to the plenary session of the United National General Assembly in 1965 and the second country in the world to recognize the Armenian Genocide in 1975.
Currently, Armenians in Cyprus maintain a notable presence of about 3,500 on the island, mostly centered in the capital Nicosia, but also in Larnaca and Limassol, where they have churches, schools, associations, cemeteries, and monuments. There is also a small unstructured Armenian community in Paphos. The Armenian Prelate of Cyprus is located in Nicosia.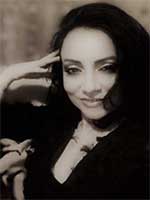 Garine Gostanian
President
Garine was born in Kirovakan Armenia. When she was three years old, her my family moved to the island of Cyprus. Cyprus is geographically
situated south of Turkey and North of Egypt in the Mediterranean Sea.
She graduated from NAREG Armenian Elementary School in 1983, and attended the Melkonian Educational Institute in 1983 where she graduated in 1989 from the commercial department.
At the Melkonian Garine was a member of the very renowned choir, as a soprano. She was also actively involved in the volley-ball and basket ball teams of the school. Melkonian was a boarding school, therefore extra curricular activities were very intense. You would rarely see a student roaming around without having anything to do.
After Garine graduated from Melkonian in June 1989, December of the same year she was hired at her first job. She was simultaneously attending night college courses as a part time student (Business Administration and Management) at the Cyprus College.
Music and dance being her passion, Garine grabbed any opportunities she could to keep her flame going. Unfortunately, there were not too many chances in those fields in the 1990's in Cyprus.
Garine married Mardig Gostanian in 1996, with whom she had had two children, Isabelle, now 23, and Patrick now 17. They sadly divorced in 2011.
She became a member of the local Hamazkayin Society in 1999 and joined its SIPAN dance group under the tutorship of Mrs. Janna Tahmazian, continuing to dance in this group until the year 2015. Through the years various tutors were hired by Hamazkayin, few of them being Mr. Felix Harutiunian, who sadly passed away from lung cancer in 2011, Mr. Petros Gharibyan, and others. Garine joined the ROMIOSINI National Dance Ensemble in 2015, a group that specializes in Caucasian and Greek dances, from which group she departed in January 2020, after completing a tour in China in December 2019.
Garine formed her own small dance group in 1919, called ARMINKA. ARMINKA participates in private events, such as weddings, birthdays and also takes part in various cultural festivals. Besides, Armenian, Caucasian and Greek dances, she also loves to do Latin Dance, socially. At the same time, she kept her singing passion by joining the choir of the local Armenian church. Garine currently works at a Law Firm as paralegal secretary.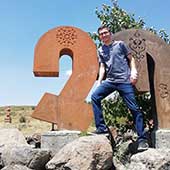 Tcharentz Bochoghlian
Tcharentz is an ambitious and motivated student of business who loves to learn and gain knowledge on many fields from law and business all the way to sports and youth. Personal education comes first is his belief, which then makes everyone around one better. He is currently studying, developing and personally growing in Cyprus, but wishes to further help his motherland in any way possible. Tcharentz is very excited to be working with SOAR in order to help his young Armenian brothers and sisters to open their future for themselves and put themselves in the path to where they wish to go. Just like he is learning and growing, he wishes to give them the same opportunity.