SOAR - Copenhagen Chapter
Copenhagen joined the SOAR family in May 2014. In the modern era, Armenians began settling in Denmark in 1970, coming from Lebanon, Iran, Iraq, Syria, Turkey, and, after the dissolution of the Soviet Union, Armenia. In 1983, Armenians established an Armenian Cultural Union that aimed to unite Armenians of Denmark and preserve the Armenian identity, language, and culture. The Armenian Cultural Union operated until 1992 when it gradually slowed down its activities due to the dispersion of Armenians across Denmark and the immigration of Lebanese and Iranian Armenians to the United States and Canada. In 2005, the Danish-Armenian Association and "Nectar" Armenian cultural organization made efforts to organize the community life. The members of these organizations are Armenian immigrants who want to create an Armenian ambiance, preserve the Armenian language and culture, and introduce Danes to Armenia and the Armenian culture. The 3,000 Armenians who live in Denmark today are primarily centered in Copenhagen, Aarhus, and Odense.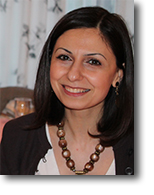 Lusine Nazaryan-Petersen
President
Lusine was born and raised in Yerevan, Armenia. She graduated with her Master's Degree from the Faculty of Biology of Yerevan State University. After graduating, she began working at the Center of Medical Genetics (Yerevan, Armenia) and was there for five years as a clinical cytogeneticist for detecting and analyzing hereditary diseases and abnormalities. In 2008 Lusine was admitted to Copenhagen University to perform her PhD project in Medical Genetics, where she specialized in high resolution next-generation sequencing technologies. These have very broad applications in genetic studies and diagnostics. She earned her PhD and is currently working at the Kennedy Center (Rigshospitalet, Copenhagen University Hospital, Copenhagen, Denmark) as a Post Doctoral researcher.
Lusine is also actively involved in the Copenhagen International Christian Community, where she volunteers as a small group leader and as a teacher in the Children's Sunday School. She also supports Kiteng African Charity organization in providing primary school education for children in Uganda, as well as in Madagascar.
Lusine's parents and sisters live in Yerevan and she visits them three times a year to spend her Christmas, Easter and summer holidays in a warm Armenian family environment.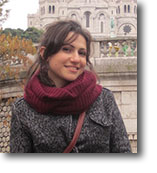 Julieta Andriasyan
Julieta was born in Yerevan, Armenia. She studied Biology at Yerevan State University and continued on at National Institute of Health of Armenia specializing in Clinical Microbiology . After graduation, Julieta worked in a Maternity Hospital as a Bacteriologist. She has also been a researcher in Food Safety and Medical Microbiology. In 2012 Julieta got a scholarship for her Master's studies in Food Science and Technology and studied at the University of Copenhagen and the Autonomous University of Barcelona. In 2014 she moved to Copenhagen and lives there with her husband.