SOAR - Charlotte Chapter
Charlotte became part of the SOAR family in February 2015. While the Armenian community in North Carolina is small, home to approximately 500 Armenian families statewide, it is dedicated to the perpetuation of the Armenian heritage. The Charlotte community built itself up from just a handful of families, called together by Lena Kupelian Neau in the late 1980s. At that time, there was no Armenian organizations in Charlotte. With dedication and hard work, the Armenian community in Charlotte has evolved, galvanized by St. Sarkis Church, which was consecrated in July 2005.
Arlen Boyajian
Co-President
Arlen Boyajian was born in Burbank, California and raised in Dallas, Texas. Arlen holds a B.A. in Business Administration from Central Penn State and an MBA from University of North Carolina at Fayetville. Arlen has over 17+ years of organizational development and management operations expertise, and currently works at Duke Energy. Arlen is very passionate about working within the Armenian community, and has previously served on the board of SOAR in Detroit Michigan, worked with Saint Vartan camp and was treasurer of his ACYOA chapter in Dallas for several years. Arlen was also the treasurer of Saint Sarkis Armenian Church in Carrollton, Texas where he was heavily involved within the church community. Arlen now lives in Charlotte with his wife, Melanie, and daughter, Bella.
Melanie Boyajian
Co-President
Melanie Boyajian was born in Hamburg, Germany to Armenian parents and immigrated with her family to the United States at the age of 3, where she was raised in the Chicago suburbs. Melanie is an Industrial Organizational Psychologist holding degrees from Illinois Wesleyan University and Central Michigan University, and has held roles in both academia and the corporate world. Currently she works as an internal organizational psychologist at Duke Energy. Melanie spent 8 years living in "the middle of the mitten" Michigan and, together with her husband Arlen, helped to bring the Detroit chapter of SOAR to life. She relocated to Charlotte when she was recruited by Duke in 2016 and now calls the Queen City home. She is passionate about volunteer work and loves to spend her personal time traveling and exploring new places with her family.
Kristine Akopian
Secretary
Kristine Akopian graduated from Cal State Northridge University with Bachelor's degree in Liberal Studies in '00. She was a teacher for 6 years. She is now working at a computer software company as QA Regulatory data services analyst. Kristine was born in Charentsavan, Armenia and moved to the United States in 1988 when she was seven years old. She has lived in California until 2014 then moved to Charlotte, NC in 2014 with her husband Marat, and their two children.
Having the opportunity to be involved in a great cause that helps children and to spread some of our positive love and care is one of Kristine's passions. Being able to contribute and be involved to help children to make them smile and knowing that we made some difference in any child's life is definitely most rewarding. Kristine joined SOAR in December 2016.
Gor Mkhitarian
Social Media
The emergence of Gor Mkhitarian reflects the very best of the burgeoning music scene now taking foot in the independent former Soviet Republic of Armenia. Widely known throughout Armenia as the lead guitarist for one of country's best rock bands, Lav Eli, Mkhitarian launched his solo career in 2001 and has released seven albums since. Being nominated for a total of eleven industry music awards, he makes fresh and compelling music that successfully fuses traditional Armenian music with both rock and folk idioms. In his music, Mkhitarian makes a case for writing the next chapter in Armenia's rich musical history by updating the sound and feel of the classic Armenian folk song. But what has made Mkhitarian a favorite in Armenia is his uncanny ability to combine unique songwriting ability with stunning modern arrangements of Armenian folk music. Gor Mkhitarian gets down to basics by giving the listener meaningful lyrics, colorful arrangements, and melodic hooks that create warm and inspiring songs. In 2003 he moved to Los Angeles where drummer Andranik Harutyunyan, basist Varujan Hovakimyan and pianist Art Grigorian joined the band. Stepping away from his previous acoustic-driven "signature", with the new band he features remarkable musicianship and showcases a different approach to his songwriting. It's Armenian music, as it has never been heard before. Gor Mkhitarian cites Simon & Garfunkel, Sting, and The Dave Matthews Band, to name a few, as strongly influencing his music.
Traces of Armenian folk troubadours Rouben Hakhverdian and Harout Bezjian as well as Bob Dylan can at times be heard in Mkhitarian's solo material. But what has made Mkhitarian a favorite in Armenia is his uncanny ability to combine unique songwriting ability with stunning modern arrangements of Armenian folk music.
Pierre Arbajian
Pierre Arbajian was born in Beirut Lebanon to an Armenian family with strong ties to their Armenian heritage. Pierre works for IBM as a senior IT architect. Pierre moved to the US to continue education in 1980 and received his bachelor's degree in Electrical Engineering degree from Georgia Tech and his Master's degree from the University of Tennessee. He moved to Charlotte NC in June of 2000 and has since been very active in the life of the Armenian community as the chairman and member of the Armenian Church parish council and the president of the Armenian Cultural Association of the Carolinas. Pierre has held the role president and is presently a board member of the Middle East Council of the Carolinas. He is the father of a college age daughter and considers Charlotte NC home.
Ruzannna Carter
Ruzanna Carter was born in Yerevan, Armenia. She moved to the states with her family in 1992 after the collapse of the Soviet Union. She recently moved to Charlotte, NC from SC where she taught art at Saluda Middle School for 3 years. She earned her MAT in Art Education from University of South Carolina in 2013 and BA in Art History/Art Studio in '05. She is certified to teach K-12 art in South Carolina and North Carolina, and currently teaches at the Mooresville Art Guild. Ruzanna is passionate about helping others and is actively involved with Saint Sarkis Armenian Church in Charlotte. In her spare time, Ruzanna enjoys reading, watching movies and making jewelry. Ruzanna is a proud mother to one daughter, who is also very passionate about being involved with the Armenian community in Charlotte.
Shana Halajian
Pic and Bio coming soon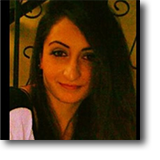 Tatevik Wisinski
Tatevik is a project controller at an energy management company in Syracuse, NY. I She graduated from SUNY Cortland with a major in Finance and received her Masters in Finance from the University of Rochester: Simon School of Business. She is also a CMA candidate. Tatevik was born in Yerevan, Armenia and speaks fluent English, Armenian and Russian.