SOAR - Burlington Chapter
Burlington (VT) joined the SOAR family in August 2018. Burlington is the most populous city in Vermont and the seat of Chittenden County. It is located 45 miles south of the Canada–United States border and 94 miles south of Montreal. A regional college town, Burlington is home to the University of Vermont (UVM) and Champlain College, a small private college. Vermont's largest hospital, the UVM Medical Center, is located within the city limits. The City of Burlington also owns the state of Vermont's largest airport, the Burlington International Airport, in neighboring South Burlington. In 2015, Burlington became the first city in the U.S. to run completely on renewable energy.
Naira Hagopian
President
Naira Hagopian (maiden name, Babayan) is from Yerevan, Armenia. Currently she is residing in Vermont, USA with her family: 11 year old daughter,Shakeh, 9 year old son, Shiraz, her husband, Philip.
Naira loves her native country of Armenia and her heritage. She made sure that in non-Armenian Vermont her children speak Armenian and keep their culture and traditions.
Naira was involved in many USAID, Unicef and GTZ development programs while she was living and working in Armenia. She loves helping people, especially those that are in vulnerable stages in their lives, especially children and the elderly. Naira dreams of the opportunity to bring love and light into their lives. Her grandparents played the most important role in her childhood and she still misses them tremendously. They used to tell Naira how rich they were even though they were living a very simple village life with minimal resourses. The richness they were referring to were their family, their kids and grandkids. Her grandparents were receiving energy and inspiration from caring about their grandchildren. It was keeping them from feeling old and weak. Naira learned from them that love and care is the most important thing in our lives especially when we get old. She feels that children that have no grandparents or parents deserve the same. She wants to bring them together to form bonding experiences of family and support. She believes nothing is more powerful and no pills can cure more than love and care of others.
She dreams of returning to her home, Armenia, with her children and being able to work and live in her country. For now, she wants to build bridges between Vermont and Armenia.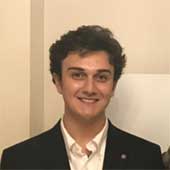 Artin Dersimonian
Artin DerSimonian is entering his fourth year at Champlain College in Burlington Vermont where he studies Management and Innovation. He has a dedicated passion for helping others through business and innovative solutions and he hopes to further this passion while at SOAR.