SOAR-Brussels became part of the SOAR family in December 2013. There are approximately 11,000 Armenians in Belgium today. The earliest records of Armenians in Belgium date to the 4th century, when Armenian priests, merchants, and intellectuals dropped anchor in Belgian ports. By the late 15th century, Armenians had established a hospice, and Armenian merchants started exporting cotton goods, spices, perfumes and other materials to markets in the East. The size of the Armenian community did not start growing considerably until the end of the First World War and the forced mass exodus of Armenians from Turkey following the 1915 Armenian Genocide. Armenians were known for trading diamonds, rugs, and tobacco. An Armenian church, "Eglise Armenienne Apostolique Sainte Marie-Madeleine" is the main church of the Armenian Apostolic Orthodox community. It is related to the Mother See of Holy Etchmiadzin of the Armenian Apostolic Church. The church structure was erected and consecrated in May 1990.
Lilit Ghukasyan
President
Lilit Ghukasyan was born and raised in Yerevan. After obtaining her Master's Degree in Economics from Yerevan State University, she moved to the UK, London to continue her education at LSC (London School of Commerce), MBA. She moved to Brussels in 2012.
Lilit has worked in different companies, always in the Marketing department. Currently, she works at NGO-Engineers Without Borders, as a Marketing and Communication Officer. She speaks several languages: Armenian, Russian, English, French, and Dutch.
Lilit has always been involved in charity campaigns for Armenia, and now working with SOAR will broaden her possibilities to be useful for those who are less favored.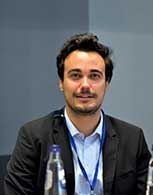 Raphaël Chivot
Born and raised in Paris, Raphaël obtained a BSc degree in International Economics & Management from Bocconi University in Milan in 2017. He also studied in Belgium and graduated in 2021 from a postgraduate programme in EU policy-making at the Brussels School of Governance. Raphaël has worked for an NGO in Buenos Aires, several start-ups in Paris and also volunteered with Birthright Armenia in 2018, where he was working for a fintech organisation at the American University of Armenia (AUA).
Raphaël has done a traineeship at the Council of the European Union (DG ECOFIN, dealing with economic policy issues) in 2022 and is currently working in Brussels as a policy officer for a professional association that promotes fire safety.
Speaking multiple languages and being an Armenian from the diaspora, Raphaël is looking forward to raising awareness about SOAR's actions and hopes to contribute positively to its future endeavors.
Volunteers:
Armine Hareyan
Chinar Harutyunyan
Angélique Sarkisian