Ankara joined the SOAR family in September 2017. Today, there are no active Armenian schools, churches or organizations left in Ankara. In the past, most of the Armenians living in Ankara were Catholics. As a turcophone community, it is known that Armenians of Ankara have historically used the Armeno-Turkish language (writing Turkish in Armenian letters) in newspapers, correspondences, prayer books et cetera.
The purpose of Ankara Chapter is to closely collaborate with the Istanbul Chapter and contribute by means of social networking, implementation of SOAR Programs and eventually organize online fundraising events by engaging more volunteers. Ankara Chapter is also in charge of promoting SOAR's mission and objectives within the Armenian community in Turkey in addition to reaching out to donors that may support SOAR's events.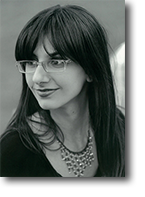 Monika Manişak-Paksoy
President
Monika Manişak-Paksoy was born in Istanbul. After graduating from Getronagan Armenian High School, she earned her BA degree from the department of American Culture & Literature. In August 2017, she received her master's degree from the Media & Cultural Studies program at METU, Ankara. She wrote a sociological thesis on the case of Armenian immigrant domestic workers in Istanbul after conducting a qualitative research.
Monika works as a freelance translator in the language pairs of English-Turkish-Armenian. She has a keen interest in taking part in the local community life and Armenian churches in Istanbul. Monika is an alumna of AFS Intercultural Programs (2009), TFAS-American Institute on Political & Economic Systems (2013) and ARMACAD Armenian Studies Summer School (2014).