Ankara joined the SOAR family in September 2017. Although Istanbul is the heart of an active community life of Armenians in Turkey as their intellectual and cultural center, Ankara also has a small Armenian community of about 300 people most of whom are Catholics. Today, there are no active Armenian schools, churches or organizations in Ankara. Christian minorities living there gather in the St. Therese Catholic Church at the old French embassy chapel for religious ceremonies as well as for funerals and weddings. Recent ethnographic research on Armenians in Ankara show that the community members do not come out with their ethnic identities as openly as Istanbul-Armenians which makes them a rather hidden population given their small number in the capital city. As a turcophone community, it is known that Armenians of Ankara have historically used the Armeno-Turkish language (writing Turkish in Armenian letters) in newspapers, correspondences, prayer books et cetera.
Since the 1990s, Armenians from Armenia have been moving to Turkey for economic opportunity, serving as laborers and domestic help as irregular immigrants. Given their undocumented status, especially their children/grandchildren are deprived of their basic human rights as education and health care. Likewise, SOAR Ankara Chapter intends to do further research on the case of Syrian-Armenian refugees who have moved to Turkey as an outcome of the civil war. Ankara Chapter will be in close cooperation with the Istanbul Chapter as a hybrid structure serving as a liaison and offering administrative support on these issues while contributing to the general cause of SOAR. Ankara Chapter will also be in charge of inquiring more target groups as well as donors while promoting SOAR's mission and objectives within the Armenian community in Turkey.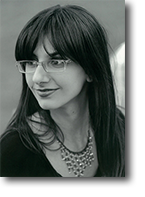 Monika Manişak-Paksoy
President
Monika Manişak-Paksoy was born in Istanbul. After graduating from Getronagan Armenian High School, she earned her BA degree from the department of American Culture & Literature. In August 2017, she received her master's degree from the Media & Cultural Studies program at METU, Ankara. She wrote a sociological thesis on the case of Armenian immigrant domestic workers in Istanbul after conducting a qualitative research.
Monika works as a freelance translator in the language pairs of English-Turkish-Armenian. She has a keen interest in taking part in the local community life and Armenian churches in Istanbul. Monika is an alumna of AFS Intercultural Programs (2009), TFAS-American Institute on Political & Economic Systems (2013) and ARMACAD Armenian Studies Summer School (2014).