Amman joined the SOAR family in May 2015. Armenians in Jordan are ethnic Armenians living within the current Hashemite Kingdom of Jordan. There were about 6,000 Armenians living in Jordan between 1930 and 1946. After the 1948 Arab-Israeli War, a new wave of immigrants arrived from Palestine to increase the number of Armenians to about 10,000. Starting in the 1950s, however, and particularly after the 1967 Arab-Israeli Six-Day War, Jordan witnessed the emigration of a large number of Armenians to Australia, Canada, and the United States. There are approximately 3,000 Armenians living in the country today, with Armenians comprising the largest majority of non-Arab Christians in Jordan.
Most Armenian organizations and schools and religious structures are located in Amman's Jabal Al-Ashrafieh neighborhood, also commonly called the Armenian Neighborhood. There are three Armenian churches in Jordan: 1) St. Thaddeus Armenian Apostolic Church, in Amman; 2) St. Garabed Church, in Jordan River; and 3) and the Armenian Catholic Church of St. Sahag and St. Mesrob. Armenian education is very important in maintaining Armenian language and identity among the Armenian community in Jordan, and Amman is host to many Armenian institutions, cultural associations, and a school.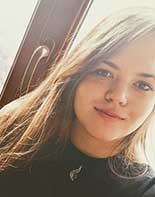 Marcella Bernard
Marcella has a Master in Science in Development Studies, majoring in Political Sciences, with specific interests in preventing and mitigating the effects of conflict and violence. Having focused on the geopolitics of the Caucasus in her studies, she was fortunate enough to work and conduct research in Armenia in 2019. Experiencing the unconditional warmth of the Armenian people and having an opportunity to witness the majestic natural wonders of Armenia – from the mountains to the waterfalls to the orchards – it was love at first sight. Volunteering with SOAR gives her the chance to give back and stay connected to Armenia, by providing inputs to Armenian children full of potential who are in a more vulnerable position.