Bucharest joined the SOAR family in May 2019. In Bucharest, an Armenian presence was first recorded in the second half of the 14th century – most likely immigrants from the Balkans and from the area around Kamianets-Podilskyi. After the Armenian Genocide, Romania was the first state to officially provide political asylum to refugees from the area. In 1940, about 40,000 Armenians lived in Romania. Under communist rule, Armenians started to leave the country, and Nicolae Ceausescu's regime eventually closed all Armenian schools. Since 1989, there has been an Armenian cultural and political revival in Romania. As of 2002, there were 1,780 Armenians living in Romania. There is one Armenian church in Bucharest on what is called Strada Armenească ("Armenian Street"). Beside the church is a two-story cultural center with the first floor being a library of Armenian books and the second floor a museum. The present community is being reinforced by Eastern Armenians immigrating from Armenia or by Armenian students coming to study in Romania.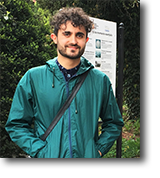 Arthur Zakare Harutyunian
Arthur Zakare is currently doing his Master's Degree in Media production at Babeș-Bolyai University in Cluj-Napoca, Romania. Arthur is a scholarship holder through the Programme between the Ministry of National Education of Romania and the Ministry of Education of Armenia. He got his Bachelor's Degree in Journalism at the University of Sciences, Economy, and Law (USEL) in Yerevan, Armenia. He continued on to study Mobile Journalism in "Go Group Media" in Tbilisi, Georgia by being a member of the "Journalists for Peaceful Caucasus" project. Arthur Zakare has also earned numerous certificates in the areas of social and youth work, citizen journalism, environmental and human rights protection. He has held many positions in NGOs and Foundations locally and internationally working as a multimedia journalist, PR and communication specialist, project manager, youth worker, and trainer.
Arthur Zakare has a cross-cultural experience by being an international volunteer in Transylvania. He worked with youth and children by developing practical life competencies and abilities in social and linguistic skills. Arthur has done an internship in the "Helsinki Foundation for Human Rights" and its "Watch Docs" Human Rights Festival in Warsaw, Poland.
Arthur finds himself to be an explorative and curious Communication specialist, who has recently found his nature, a person consumed by wanderlust. He likes traveling, meeting new people and getting to know new cultures.
His native language is Armenian, but Arthur is also fluent in Russian, English, and Romanian.