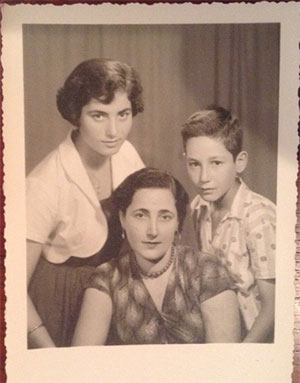 The Nover Gulekjian Memorial Scholarship for Science, English or Math studies, is established by her children, Sira and Dr. Jacques Gulekjian, in honor of SOAR's Zurich chapter. It is endowed with $1,000. Each year $250.00 is awarded exclusively for an Armenian orphaned child in Lebanon who shows exemplary academic potential and ambition . 
Nover was born in Cilicia in 1921, settled in Beirut, Lebanon in 1925, where she spent most of her adult life. By 23 she was a widow with two children. To help during her difficult circumstances, she perfected her sewing skills and developed a real talent as a seamstress. She worked relentlessly to support the education goals of her son and daughter. Her desire to offer her kids what she missed out in life was her fuel. By the age of 50, she became the leading seamstress for the medical staff uniforms at the American University Beirut. In 1977, Lebanon's war forced her to move countries once more, finally to Fort Lee, New Jersey to unite with her son, daughter, and grandchild, Tania. Her comfort zone was her family, the Armenian Church and the will to be productive! During difficult times, she remained a pillar of strength for her son and daughter. Nover was an advisor, a problem solver, a caregiver to the Armenian Relief Society, Tekeyan Cultural Association, St. Thomas Church, local Armenian community, relatives and especially to her three grandchildren, Araz, Celine and Tania. She passed away gracefully at 95 years of age in January 2017.
This scholarship fund is open for children age 12-18 in need of support in the areas of Math, Science and English. Each year, $250.00 is awarded to the one who demonstrates above average performance in academic transcript, CV and written mission statement up to 250 words on personal or professional goals. Please send your applications by July 1st to gyacoubian@soar-us.org. SOAR ZH in collaboration with SOAR USA will review them and award one scholarship winner each year.