SOAR - North Carolina Chapter
North Carolina became part of the SOAR family in September 2011. While the Armenian community in North Carolina is small, home to approximately 500 Armenian families statewide, it is dedicated to the perpetuation of the Armenian heritage. Moreover, the Greensboro Board of Directors demonstrates that Armenian causes can be embraced by volunteers with no ethnic connection to Armenia. Dr. Henry and April Emery, Dianne Roberts, and Robin Sizemore represent one of SOAR's completely non-Armenian Chapter Board of Directors. Their travels to, and work in, Armenia have shown them that orphaned children represent the most vulnerable population of Armenian youth. Some of the chapter members are adoptive parents to Armenian children, while others have been called by vocation or both.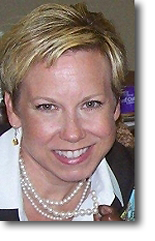 Robin Sizemore
President
Robin is the Executive Director and co-Founder of Hopscotch Adoptions, Inc, a New York authorized, North Carolina licensed, Hague Accredited, 501-C3 child placing organization. In 2008, Robin was a recipient of the "Angel in Adoption" award in recognition of her service to children since 1995. She is an adoptive mother and has been an adoption professional since 1995. Her first child through adoption is Armenian. In addition to placing children in forever families, Robin has been politically involved in issues of child welfare: she has brought educational opportunities to a variety of officials in Georgia and Armenia, spearheaded cooperative humanitarian efforts, and hosted numerous international delegations through the U.S. State Department and Ministries in other countries which are associated with institutionalized children. Under Robin's leadership, Hopscotch Adoptions is the first international adoption agency to assist in the permanent placement of children with Down Syndrome from Armenia, Georgia and Ghana.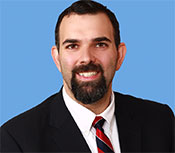 Arlen Boyajian
Arlen Boyajian was born in Burbank, California and raised in Dallas, Texas. Arlen holds a B.A. in Business Administration from Central Penn State and an MBA from University of North Carolina at Fayetville. Arlen has over 17+ years of organizational development and management operations expertise, and currently works at Duke Energy. Arlen is very passionate about working within the Armenian community, and has previously served on the board of SOAR in Detroit Michigan, worked with Saint Vartan camp and was treasurer of his ACYOA chapter in Dallas for several years. Arlen was also the treasurer of Saint Sarkis Armenian Church in Carrollton, Texas where he was heavily involved within the church community. Arlen now lives in Charlotte with his wife, Melanie, and daughter, Bella.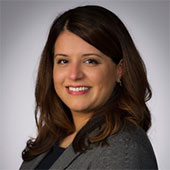 Melanie Boyajian
Melanie Boyajian was born in Hamburg, Germany to Armenian parents and immigrated with her family to the United States at the age of 3, where she was raised in the Chicago suburbs. Melanie is an Industrial Organizational Psychologist holding degrees from Illinois Wesleyan University and Central Michigan University, and has held roles in both academia and the corporate world. Currently she works as an internal organizational psychologist at Duke Energy. Melanie spent 8 years living in "the middle of the mitten" Michigan and, together with her husband Arlen, helped to bring the Detroit chapter of SOAR to life. She relocated to Charlotte when she was recruited by Duke in 2016 and now calls the Queen City home. She is passionate about volunteer work and loves to spend her personal time traveling and exploring new places with her family.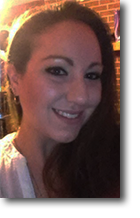 Rebecca Enfiedjian
Rebecca is an enthusiastic professional who has held a passion for the environment and the creatures within it since her youth. Rebecca received her BA in Political Science and Master's of Public Administration (MPA) at North Carolina Central University. Both of her degrees focus on government within the public sector, with special regards towards energy management and environmentalism. While obtaining her MPA, Rebecca held two fellowships, one being a Climate Corps Fellow for the Environmental Defense Fund. Upon completion of her degree, Rebecca spent 5 months in Armenia, organized through Birthright Armenia, to assist in environmental and energy matters. Her colleagues have described her as driven, enthusiastic, and relentless in her pursuits. While Rebecca focuses her attention on environmental matters, she has an interest in social welfare issues that plague society. She wishes to use her knowledge and skills in assisting in these matters in order to build towards a better future.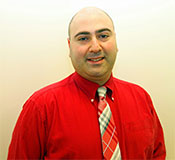 Harout Tutundjian
Harout is a native of Watertown, MA where he graduated High School as part of the National Honor Society with Varsity Letters in Football and Wrestling. He attended the University of Massachusetts – Boston where he received his bachelor's degree in Accounting. Harout later attended Southern New Hampshire University where he received his Master's of Accounting.  He and his wife relocated to the Charlotte, NC area about 2 years ago looking to escape the harsh winter months up North.