SOAR - Morocco Chapter
Morocco joined the SOAR family in November 2019. Armenians arrived in Morocco after the 1915 Genocide and the Second World War.  Despite settling in Morocco more than a century ago, there have never been any Armenian cultural centers or schools. The Surmenyan family was the first to settle in Morocco, establishing various industrial enterprises. Armenians of Morocco have historically been engaged in trades and craftsmanship. Approximately 100 Armenians live in Morocco today.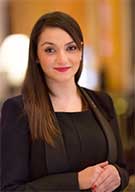 Caroline Khosrovian
President
Caroline was born in Yerevan and moved to Marseille with her mother and two brothers in 1994. She was born Parandzem Khosrovian but changed her name to Caroline Khosrovian after moving to France.
Caroline has a Bachelor degree in Public Relation and Communication and has worked in the hospitality business for the past ten years. The last six of those years she spent in Cannes  as a Guest Relation Manager in one of the nicest hotels on the French Riviera. Currently, she is working in Geneva in the head office of Ultima Collection of hotels, chalets, and villas as a Guest Experience and Quality Director.
Caroline's passions are world travel, reading books and being with her family and friends. Being a godmother to a young lady named Meri in Spitak, her goal this year is to visit Armenia as it has been twenty years since she has been there.
As a Président of SOAR Morocco Chapter, Caroline intends to bring a new dynamic with new ideas to continuously improve their commitment to Armenian Children around the world.