Dubai joined the SOAR family in February 2015. Many Armenians originating from Lebanon, Syria and other Arab countries were drawn to UAE for the economic opportunities. The majority of Armenians in UAE are Orthodox Armenians belonging to the Armenian Apostolic Church and under the jurisdiction of the Holy See of Cilicia. The Catholicossate established the "Diocese of Kuwait and the Arabian Gulf Countries." It is headquartered in Kuwait, but also serves the Armenians in UAE. The Armenian Catholicossate, with the support of the Sharjah Emirate, established St. Gregory the Illuminator Church in Al Yarmook, Sharjah – the first Armenian church established in UAE. Approximately 3,000 Armenians live in UAE, primarily in Dubai and Abu Dhabi.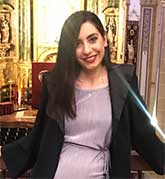 Aznive Boghossian
Co-President
Aznive Boghossian was born and raised in Beirut, Lebanon. She received her Bachelor's degree in Hospitality and Tourism Management in Beirut city, and moved to Spain to pursue her Master's degree in Innovation in Tourism and Marketing from Universidad Católica San Antonio de Murcia. Currently Aznive works in Abu Dhabi in Sales and Marketing division, she is part of Leadership Development Program by Marriott International. She is Fluent in Armenian, English and Arabic and has a working proficiency in Spanish.
Aznive believes in the beauty of diversity and that happiness is helping others to feel belonged, safe and most importantly loved.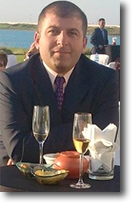 Nairi Babayan 
Nairi Babayan was born and raised in Armenia, Yeghegnadzor. He received his education in Armenia: Yerevan State University of Economy, University of Foreign Relations and also completed various courses at the American University of Armenia. He has also received a musical education and plays the Armenian symbolic musical instrument, the Duduk. He is a progressive scholar in the field of business and constantly travels overseas to give sessions at multidisciplinary conferences: Paris: IJAS, England: University of London, Italy: American University of Roma, to name a few. Nairi currently resides and works in the United Arab Emirates and works closely with the Sultanate of Oman. He is a successful businessman and a well respected Armenian in this multicultural country.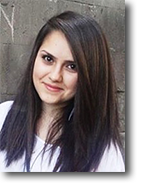 Anna Serobyan 
Anna Serobyan is from Yerevan, Armenia, currently double majoring in Political Science and Economics at New York University Abu Dhabi. She is an alumna of Future Leaders Exchange (FLEX) Program and European Youth Parliament Armenia, an active member of NYUAD Model United Nations and an advocate committed to social justice. Anna is residing in Abu Dhabi, where she is working on her capstone research project centered around landlocked countries with a case study of Armenia. She is fluent in Armenian, Russian, English and has a working proficiency in French and Spanish.