Dubai joined the SOAR family in February 2015. Many Armenians originating from Lebanon, Syria and other Arab countries were drawn to UAE for the economic opportunities. The majority of Armenians in UAE are Orthodox Armenians belonging to the Armenian Apostolic Church and under the jurisdiction of the Holy See of Cilicia. The Catholicossate established the "Diocese of Kuwait and the Arabian Gulf Countries." It is headquartered in Kuwait, but also serves the Armenians in UAE. The Armenian Catholicossate, with the support of the Sharjah Emirate, established St. Gregory the Illuminator Church in Al Yarmook, Sharjah – the first Armenian church established in UAE. Approximately 3,000 Armenians live in UAE, primarily in Dubai and Abu Dhabi.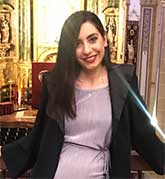 Aznive Boghossian
Co-President
Aznive Boghossian was born and raised in Beirut, Lebanon. She received her Bachelor's degree in Hospitality and Tourism Management in Beirut city, and moved to Spain to pursue her Master's degree in Innovation in Tourism and Marketing from Universidad Católica San Antonio de Murcia. Currently Aznive works in Abu Dhabi in Sales and Marketing division, she is part of Leadership Development Program by Marriott International. She is Fluent in Armenian, English and Arabic and has a working proficiency in Spanish.
Aznive believes in the beauty of diversity and that happiness is helping others to feel belonged, safe and most importantly loved.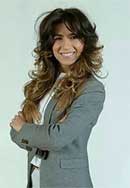 Adrine Mkrtchyan
Co-President
Ms. Adrine Mkrtchyan is the SOAR Chapter President for Dubai since July 2019. Ms. Mkrtchyan has been involved in humanitarian activities volunteering in Habitat for Humanity Armenia helping to build houses for the socially disadvantaged group, has volunteered in Armenian Red Cross Society taking part in various projects aimed at the needs of vulnerable and disadvantaged people.    
Along being involved in various humanitarian and volunteering activities, Ms. Adrine Mkrtchyan is an Internal Auditor for the Government of Dubai – Dubai Electricity and Water Authority. 
Ms. Mkrtchyan was a Financial Consultant for the World Bank Yerevan Office in 2009. In 2010, Assistant Teacher in the School of Business and Management of the American University of Armenia for Internal Control and Audit Class. From 2010 to 2013 Ms. Mkrtchyan was Deputy Underwriter in Cascade Insurance CJSC and Internal Auditor in Ingo Armenia Insurance CJSC. In 2013-2015 Ms. Mkrtchyan was an Internal Auditor for Aregak UCO one of the leading credit organizations in Armenia. 
Ms. Mkrtchyan was a speaker for "Driving the Change" International Conference by Institute of Internal Auditors Armenia in September 2016.   
Ms. Mkrtchyan is Certified Internal Auditor (CIA), certified ISO 13,500 Lead Auditor, certified ISO 55,001 Lead Auditor, certified ISO 31,000 Lead Risk Manager, Member of UAE Internal Auditors Association IIA Global Affiliate. 
Ms. Mkrtchyan holds Master of Business Administration (MBA) degree from American University of Armenia (2009), was recognized the best student of the School of Business and Management and awarded "Karamardyan Award" merit based full scholarship.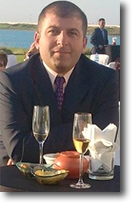 Nairi Babayan 
Nairi Babayan was born and raised in Armenia, Yeghegnadzor. He received his education in Armenia: Yerevan State University of Economy, University of Foreign Relations and also completed various courses at the American University of Armenia. He has also received a musical education and plays the Armenian symbolic musical instrument, the Duduk. He is a progressive scholar in the field of business and constantly travels overseas to give sessions at multidisciplinary conferences: Paris: IJAS, England: University of London, Italy: American University of Roma, to name a few. Nairi currently resides and works in the United Arab Emirates and works closely with the Sultanate of Oman. He is a successful businessman and a well respected Armenian in this multicultural country.
Sabine Kharabian
Pic and Bio coming soon!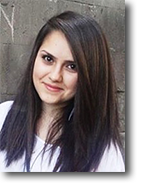 Anna Serobyan 
Anna Serobyan is from Yerevan, Armenia, currently double majoring in Political Science and Economics at New York University Abu Dhabi. She is an alumna of Future Leaders Exchange (FLEX) Program and European Youth Parliament Armenia, an active member of NYUAD Model United Nations and an advocate committed to social justice. Anna is residing in Abu Dhabi, where she is working on her capstone research project centered around landlocked countries with a case study of Armenia. She is fluent in Armenian, Russian, English and has a working proficiency in French and Spanish.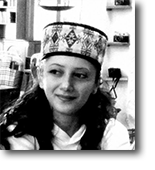 Alla Zakaryan
Alla was born in Yeghegnadzor, Armenia. She grew up and went to school in Hrazdan. After completing school, Alla moved to Yerevan to study languages at Yerevan State Linguistic University after Brusov. During her studies, she work at Zadik orphanage for 4 years to help the children improve their English. As she was living alone in Yerevan, Alla liked to bring some children to her home, (which was close by), for a night or for lunch. She felt it helprd her to be more connected to the children and make them feel at home for at least a few hours. Her students also became her friends. After graduating from the university, Alla started to work in the tourism field and currently she is a sales manager in an inbound tourism company based in Dubai, UAE.